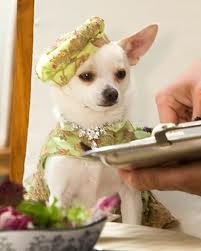 Chloe Vanessible is is a pampered, spoiled, white female Beverly Hill chihuahua. Her owner is Vivian and her mate is Papi. She is voiced by Drew Berrymore in the first movie, but was replaced with Odette Annable .
Description
Edit
Chloe is a pure white female chihuahua with brown eyes. She wears a diamond collar from Harry Winston and is dressed in many outfits several times throughout one day. She also uses Chanel #5 (or Mexico #5).
Vivian Ashe (Owner) Papi (Husband)
Rosa (Daughter)
Lala (Daughter)
Pep (Daughter)
Ali (Daughter)
Papi Jr.(Son)
Killer (Father)
Dolgado (Cousin)
Ad blocker interference detected!
Wikia is a free-to-use site that makes money from advertising. We have a modified experience for viewers using ad blockers

Wikia is not accessible if you've made further modifications. Remove the custom ad blocker rule(s) and the page will load as expected.